The bullet points for altering frame size need amending as the order in which you do them is wrong. You have to do it in this order or the dreaded "Invalid framesize/framerate for this Level. Please lower the Frame Dimensions, Frame Rate or increase the Profile and Level and try again." keeps popping up.
• ignore the TV Standard (it's a trick question), pick PAL or NTSC – it doesn't matter
• set the Pixel Aspect Ratio to Square Pixels
• set the Profile to High
• set the Level to 5.1
• set the Frame Width to 3840
• set the Frame Height to 2160
• change the frame rate to match your footage (unless you're doing some conversion magic)
If you're editing 2.7k footage, the frame width and height are 2704 and 1520 respectively. The last two parameters (Profile and Level) are responsible for giving the initial error message by the way.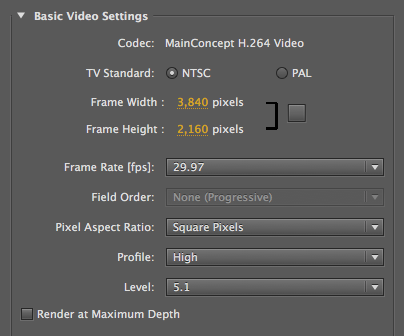 How to export 4k video with Premiere Pro CS 5.5